November 22, 2022
Allison Altenberger-Olson Awarded "Excellence in Education" Award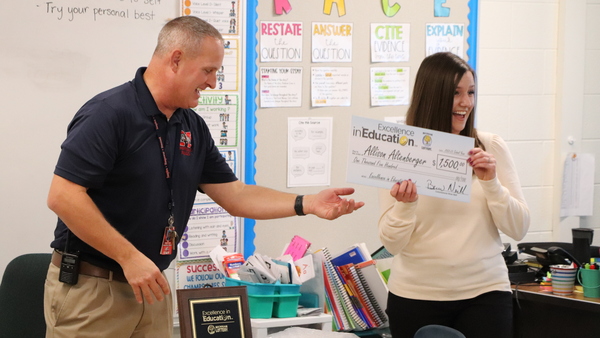 Mason, MI – Shock and appreciation flooded Allison Altenberger-Olson when she was notified of her Michigan Lottery Excellence in Education (EIE) award. She is the first Mason Public Schools teacher to receive the award, which includes a $1,500 cash prize as well as $500 classroom stipend. Her award presentation will air this evening on Fox47 at 5:30 p.m. The segment will air again Wednesday morning as well.
Altenberger-Olson has taught Special Education at North Aurelius Elementary School for the past five years, and to her, building positive relationships with students, along with celebrating their personal growth and achievements, is very important.
"It brings me joy to see the students I work with build confidence, make progress, and gain academic and life skills," said Altenberger-Olson. "I take pride in consistently advocating for my students and creating a positive school environment for them."
To further commemorate her dedication to students, her school, and the Mason community, City of Mason Mayor Russell Whipple proclaimed Nov. 30, 2022, as "Allison Altenberger-Olson Day" and presented her with a certificate marking the occasion.
"Mason Public Schools and the educators that work so hard to maintain excellence are a fundamentally important asset of the City of Mason and the greater Mason community," said Whipple. "We are thrilled to have the Michigan Lottery select one of our own educators for recognition. Allison Altenberger-Olson exemplifies the high-level dedication and leadership of Mason educators, and she is deserving of this recognition; we are very proud of her efforts, in and, out of the classroom."
Altenberger-Olson provides academic and behavioral support to students in first through fifth grade. She enjoys forming strong connections with her students and their families and is thankful for a supportive and collaborative team in her building.
North Aurelius Principal Mike Prelesnik said, "Allison is an outstanding teacher, and she goes above and beyond in planning, preparing, and teaching her students so that they achieve academic success. Each year, her students make tremendous academic growth in reading and math. Allison cares greatly about the wellbeing of her students, and she is a very positive member of our staff. We are very lucky to have Allison on our team at North Aurelius!"
The EIE award was established in 2014 and is presented to one Michigan teacher each week during the school year. One Educator of the Year is selected from the weekly winners to receive a $10,000 cash prize at the end of the school year.
###