Team Mason: Excellence in Action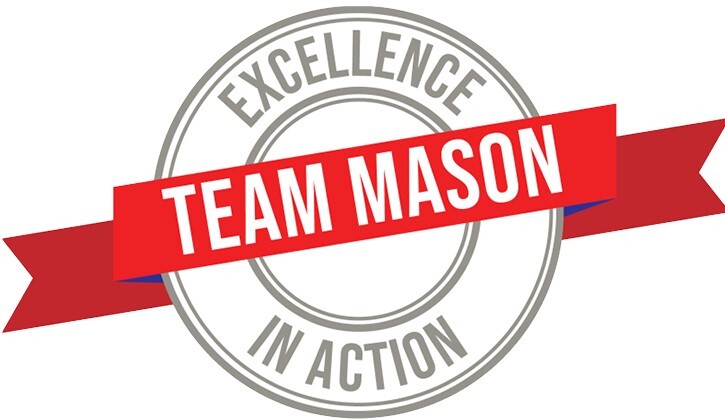 Team Mason articles shine a spotlight on students, teachers, programs, and projects in all buildings and grades in the district. Team Mason articles are written by Dr. Janet Alleman, instructional consultant for Mason Public Schools.
Dr. Alleman is Professor Emeritus at Michigan State University and has worked with Mason Public Schools since 2012 as an instructional consultant. Team Mason articles are a snapshot of her observations and experiences in classrooms and buildings throughout the district.
Who Cares What Our Students Think?
Who cares what our students think? Let's be clear, our faculty and staff do! During our staff back-to-school professional development, our district stepped way out of the box and invited students from our middle and high school to serve on a panel facilitated by our very own Mark Sundermann. Students shared their thoughts and insights associated with their needs and wants for the coming school year. Not surprising, our students stole the show as the most compelling part of the two-day kickoff.
Make no mistake, in preparation for the session, we discussed the non-negotiable things about school including the 180-day school year and course requirements. Among the many messages our student panelists shared were a plea for more time to talk, debate, and ask questions in classes, more choices in formative assessments, more collaborative activities, and more authentic projects.
Would you believe the student panelists – with no prompting – took questions from the audience of 250 adults? It was a sight to hear – and for some, a real eye opener! While change is often hard, scary, and uncomfortable, it is essential for all of us if we are going to prepare our students for the real world.
Since that memorable learning opportunity on opening day, I have had the privilege of observing a host of classes and have witnessed some very positive responses to our panel and its message.
Stay tuned for future news about community-based seating, Ted Talks, portfolios, student teaming, literature circles, learning centers at the secondary level, and more - all of which can be effective teaching and learning practices!
It is no secret that it's often hard to shift adult mindsets, however, in 2023, it is a must if we are truly going to meet the needs of ALL of our students. While it certainly isn't cool, especially for teenagers, to tell us they appreciate our attempts to change and enhance our practices, their attentiveness and heightened engagement says it all!
While our students may not be equipped to run Mason Public Schools – and it certainly isn't our intent – we are systematically embracing their voice to meet the needs of every student, every day – a tall order – but our collective commitment as promised in our new strategic plan.
What Do You Mean You Can't Google It?
In Jake Ward's earth science class, students were challenged to "discover" the topography of an area without being able to view it. Now, how exciting is that? Admittedly, for some this might have felt a bit scary because they couldn't simply Google it – and for others who have a fear of being wrong, it could be stressful.
However, Jake's ability to create a classroom community that is emotionally safe, that possesses a growth mindset atmosphere and is highly engaging is remarkable. Daily, he establishes high expectations, that he ensures are achievable, then enacts the ignite, chunk, chew, review/reflect instructional model that supports students as they unpack the content.
Students engaged in a warmup, the learning target was introduced, and Jake set the stage for a two-day investigation that would simulate how astronomers collect data on the surface of planets without being able to see through thick cloud covers. He handed out lab kits including chopsticks which served as measuring devices with one centimeter increments, boxes with 90 small holes arranged in a grid pattern on the lid of the box, and modeling clay. In pairs, their
task was to build a landscape out of clay that would fit in the box. Jake explained certain things that needed to be incorporated into their landscapes including gradual slopes, steep slopes, landing zones and more.
The next day, pairs of students exchanged boxes and, without opening them, tried to figure out what the landscape was like, locate the various features, including the landing spaces, and create topographical maps using the elevation data they were collecting in a systematic manner (holes were labeled A-1 along the top and I-10 along the side) with complementary contour lines.
Throughout the two-day inquiry lesson, Jake provided 'chunks' of information followed by pairs processing the content and applying it to various steps of the learning experience. He circulated around the classroom serving as a 'consultant,' larding in challenging probes, and of course adding those subtle motivating comments such as 'what if,' 'I wonder,' 'have you considered,' etc.
Fast forward to the moment the pairs had their own boxes and the topographical maps returned. The room was filled with energy and suspense. How accurate were their peers? Where did they go astray in their calculations? Thoughtful conversation abounded as reckoning was realized.
Time simply evaporated! As Jake checked the clock, he realized he needed to pull the session together and ask his students to reflect on what they had learned. He masterfully asked for everybody's attention and for students to write in their journals at least two key things they had learned. This was followed by a short reflective discussion teasing out key observations and generating new questions.
While it should come as no surprise that it wouldn't be 'cool' to admit it was a compelling learning experience and one 'I' really liked, their verbal reflections, body language, and facial expressions were convincing to the observer that Googling isn't the end all, and while it's a terrific tool, rest assured that in Ward's class it's on the back burner and critical and analytical thinking remain the priority!
P.S. Our amazing MPS' Foundation provided the dollars for the kits – and by the way, can you imagine Jake's prep time?
- Dr. Janet Alleman, Professor Emeritus, Michigan State University, MPS Instructional Consultant
Who Cares About Math Talks? What Can They Accomplish Anyway? Read On!
When was the last time you witnessed 24 second graders all smiles as they eagerly gathered their learning materials and were peacefully rushing to the rug for a math talk? This event was simply magical!
"What is a learning talk anyway?"
While its label might sound like a time waster, it is a planned learning opportunity that has students sitting together as a class, taking turns showing each other multiple strategies for solving the same problem, and questioning each other
about the accuracy of their solutions and the efficiency of the strategies they used. Make NO mistake, it takes careful planning on the part of the teacher – and one who listens to every word of the conversation to get a view into the depth of understanding students have and any misconceptions that need to be addressed in later lessons.
Nicole Carlson, second grade teacher at Alaiedon, truly believes math talks help her ability to assess student progress, improve student math proficiency, and serve as a powerful equity strategy that affords her second graders to see themselves as valued math thinkers.
During a math talk, instead of modeling and assigning several practice examples, students are given one problem and a generous amount of time to solve it – and the class members are encouraged to use as many strategies as they can. Requiring at least two strategies builds independence in verifying their own solutions and jump starts student ideas for further conversations. Nicole leverages the power of think, pair, share affording students the opportunity to think on their own, take turns exchanging strategies and observations, and share with the entire class.
Time evaporated as students moved in and out of the circle on the rug to converse with partners – with volunteers going to the SmartBoard to share and show. During one defining moment, when a brand-new challenge was provided by the teacher, all but one student calculated the same answer. Would you believe the one student held out – and to the shock of everyone, he was right! Words can't express the empowered look on his face as he shared his thinking, the strategy he used, and where he thought others might have gone wrong.
The emotional safety that permeates throughout this classroom made the learning experience all okay and Nicole skillfully used the moment to serve as foreshadowing for what they'd all be working on during the next session. She assured her students that they simply hadn't learned it YET!
Providing lots of time for talking about, and showing, math strategies may sound impossible given teachers' limited teaching time, the payoff, however, can be great! It affords students the opportunity to be exposed to multiple ways to approach the same problem and hear various explanations as they listen, watch, and talk to each other, see patterns, and make connections. For Nicole's class, math talks provide ONE strategy in her repertoire for math instruction and a venue for celebrating their accomplishments.
- Dr. Janet Alleman, Professor Emeritus, Michigan State University, MPS Instructional Consultant
Michigan Growing Season in Winter? What's Up With That?
You can't attribute it to climate change and yet it's mighty impactful for our students! It is Mason teachers launching innovative ideas – and in this case on the first day back from winter break!
On January 3, a 27-year veteran science teacher and an 8-year colleague were trying something brand new after careful study and collaboration using the powerful lesson study model. They were confident enough to ask their principal Lance Delbridge, teacher coach Melissa Netzel, and me to observe their students in action and provide feedback.
One of Kathy Omillian and Jimmy Joyce's goals this trimester has been to develop a new anchoring phenomenon for their nuclear chemistry unit using a cloud chamber. (This new high-tech chemistry equipment was gifted to the department by the Mason Public Schools Foundation!) The cloud chamber provides students a visual representation for deriving the phenomenon of nuclear chemistry.
Kathy set the stage for the lesson by explaining she'd been a little under the weather during break and because she'd been mostly at home due to the weather she wondered if it had to do with something she'd been encountering regularly. She showed the objects she speculated could possibly be the culprits – and then pulled
out the Geiger counters. Students' faces lit up – and they were 'into it,' as now, they were given the challenge of figuring out which object was giving off the most radiation and whether or not it fell into the danger zone.
Objects they were given to test included Kathy's cellphone, a Diet Coke (she explained she sips a lot of these as 'pick me ups'), her computer, a bag of bones (interestingly enough, she's been doing a lot with them as she preps for her anthropology class), her smoke detector, and a teacup - a memento from her grandmother. (She admits to sipping a lot of tea, especially when she's home for long periods.)
Students launched their data gathering and group conversations. As we listened in on the groups, it was apparent they were drawing on their prior knowledge. The cloud chamber was a stunning addition, giving students the unique ability to observe the small particles due to the dense fog created by vaporized isopropyl alcohol. Task variety including observing, talking, listening, drawing, and writing – even a gallery wall revealing teams' calculations and illustrations, made from a seemingly shorter class session.
As observers, visibly seeing the power of launching something new – and the value of collective thinking as a part of the classroom community was exciting. It served as a terrific example of learning being socially mediated – a Deweyian big idea of 100 years ago that to this day cannot be refuted. While Kathy and Jimmy, along with the observer, learned a lot from this new enhancement to nuclear science, the bell signally class ending was hardly checking a box. Much had been accomplished with this FIRST, but more was to come.
If only I had a transcript to share from the two-hour debrief, I could easily convince you that teaching is a scholarly activity! Questions, analyses, insights, suggested tweaks, and enhancements to the lesson were all a part of the deep conversation – further evidence that Growing Season exists at Mason High School – even in winter!
- Dr. Janet Alleman, Professor Emeritus, Michigan State University, MPS Instructional Consultant
Am I Getting a Good Return on My Investment?
With tax season on people's minds, return on your investment is undoubtedly part of many conversations. Some may be asking, "how are late start Wednesdays paying off for our Mason students?"
During the late start Wednesdays, Mason teachers work together in Professional Learning Communities (PLC) using the dedicated time to collaborate and focus on increasing student achievement.
Recently, Mason Middle School allocated its after school faculty meeting to showcase three teacher teams' successes as the result of the PLC process being implemented during those early morning meetings. During the PLCs, teaching teams focus on four key questions:
What is it we want our students to know and be able to do?
How will we know if each student has learned it?
How will we respond when some students do not learn it?
How will we extend the learning for students who have demonstrated proficiency?
Teams discuss the quantitative (formative assessments, unit tests,.) and qualitative data (absences, changes in home situations, traumatic events,.) and together adjust their teaching and learning practices.
During the faculty meeting, the teams shared with their peers materials and strategies they are using in an effort to better meet the needs of our students. Be assured, there is evidence that our PLC time is paying dividends for our children and youth. While it is a 'work in progress,' you are getting a good return on your investment! We thank our community for its support!
The following teacher teams presented during the meeting:
Tiffany Henfling and Audrey Waters
Carrie Mulanix and Erica Francis
Carla Richards, Dawn Matthews, Kayla Nguyen, and Jen Buskirk
Katie Konkel and Liz Stark
Laura Lewis and Cindy McCormick
"Big Boy" at Steele: What's Up with That?
Recently, I had the opportunity to be in Mrs. Ballard's third grade class only to find the Big Boy mascot talking with the students!
Needless to say, I was a bit startled – and somewhat confused! As it turns out, Big Boy had made a surprise visit in response to a letter a student had written to the restaurant manager.
The back story is that the third grade teachers, Julia Ballard, Holly Dornbush, Abby Strachan, and Shanna Messner, had designed an assignment asking that each student write an opinion piece. The expectation was that the piece be on a select topic, supporting a point of view, and providing at least three reasons that support their opinion. The catch, of course, was sending the letter to a real place with the hope that third graders would receive actual responses.
There's nothing better than having an authentic audience when it comes to motivation! While we know from the recent research that K-12 writing scores in the United States are disappointing, to say the least; our Steele teachers are taking this finding seriously and doing their best to generate exciting ways to teach writing. The opinion piece proved to be a terrific assignment given the responses students are receiving! A great example of authentic assessment!
After receiving a letter from a third grade student, Big Boy popped in to thank Eleanor for her letter and leave vouchers for every Steele student and educator to receive a free milkshake! Wow! How affirming is that! I'm wondering what other 3rd grade letters will warrant such a feat!?
Celebrations Come in Many Forms
So, what do TED Talks and celebrations have in common? Actually, they are synonymous if students create them and share the fruits of their labor with their classmates!
Recently, I had the privilege of being a member of the audience in Room 22 at Mason Middle School (MMS) when members of Jacob Hardy's What Individuals Need (WIN) class presented to a room packed with very attentive middle schoolers.
Given that WIN is only 30 minutes, four days a week, regrettably only three talks were delivered – but with gusto! I acquired a boat load of research-based information and acquired a thirst for learning more about Racial Judgment, Environment Regulations Associated with Dog Breeding Facilities, and Seed Types: Which Are Harder – or Easier – To Grow. I was especially struck with the range of data sources used by the presenters. They ranged from personal experience and observation to survey results from the student body to statistics from credible national organizations. All of which added interest, appeal, and personalization!
Of course, TED Talks do not just happen. In fact, they are scaffolded learning experiences with the intentional development of lifelong skills. I was fortunate enough to be in Jacob Hardy's classroom when he rolled out the TED Talk project. He said, "A good TED Talk focuses on one idea only. You can support your idea with a foundation of related points – facts, stats, and stories. They need, however, to clearly relate to the central idea to have impact!"
For many, of course, words aren't nearly enough, so in typical Hardy style, he followed with YouTube examples to illustrate and add credence to his words. Now that's powerful teaching!
Throughout the trimester, Jacob Hardy larded in mini lessons and engaged in ongoing check ins with students as they created their talks. He was adamant that students select topics they were passionate about. Every TED Talk had to have a clear and concise message. The talks were to also have clear take-aways for the audience, needed to be drafted as stories, and the visuals students created needed to be tailored to the audience.
The recent experience in Room 22 was testimony that sharing the fruits of labor, as in delivering a TED Talk to a live audience, is celebratory. Make no mistake, teachers at MMS create memorable celebrations – even without cupcakes and bounce houses!
Arbor Day was Pete Barnum Arbor Day in Mason
Did you know that April 29, 2023, was proclaimed "Pete Barnum Arbor Day" in the City of Mason? He has been the agricultural teacher at Mason High School for more than 20 years and serves as the advisor for the local FFA chapter.
Pete was honored at a special ceremony and was recognized for his commitment to the FFA and its national motto, shared by Sterling Morton, founder of Arbor Day, which reads, "learning to do, doing to learn, living to serve." Follow Pete around for a day and you'll quickly realize this motto fits him perfectly!
To honor Pete, a sugar maple tree has been planted near the FFA Sugar Shack. Pete has led his students to earn a number of awards and in 2023 broke all records locally, statewide, and nationally. The knowledge, authentic learning opportunities, and leadership qualities his students exhibit are truly impressive!
Mason Public Schools Foundation at Work!
Trappings from Mason Public Schools Foundation pop up in amazing places and are doing unbelievable things for our students! Recently, I entered the cafeteria at North Aurelius and found the place packed with third through fifth graders totally captivated by a nationally acclaimed author – namely John Schu. Leave it to Angie Moore, the librarian, to figure out a way to convince John Schu to make a stop in Mason – and by the way, bringing over 200 children's books for the school library! It doesn't get better!

I felt like I was at a pep rally. Everybody was super charged about books as John leveraged his dynamic interactions with students and applied new technologies as a means of connecting authors, illustrators, books, and readers. Not surprising, he has been named by a Library Journal as a Mover and Shaker. Throughout his presentation, he expressed nuggets of wisdom such as reading is a workout of the mind, books help see us with our hearts, and books inspire. I guarantee our third through fifth graders left the session with a renewed sense of joy about books – with some even thinking they too could be an author, teacher, or librarian just like John Schu!

Check out John Schu's This Is a School (Candlewick, 2022) illustrated by Veronica Miller Jamison, This Is a Story (Candlewick, 2023) illustrated by Caldecott Honor artist Lauren Castillo, and The Gift of Story: Exploring the Affective Side of the Reading Life (Stenhouse, 2022). He's currently revising Louder Than Hunger, a novel-in-verse for middle school readers (Candlewick, 2023). John Schu lives in Naperville, Illinois.

Thanks to our very own Mason Public Schools Foundation. Great work!
If you're looking for lessons in leadership, you might want to check out Traci Casali's leadership class at the middle school! Last year, her amazing students even managed to get airtime on the local TV channel as the result of their yeoman efforts to plan and implement a fundraiser for the Sparrow Health Trauma Team that was on duty the night of the tragic event at Michigan State University.

The dollars earned from the fundraiser were used to purchase gift baskets, which several of the students had the opportunity to personally deliver, when they visited with the Sparrow recipients. It's impossible to put into words the indelible impact this experience had on the givers and the receivers!

When I visited the leadership class, students were "all in" as they were creating Dream Boards. Listening to their conversations centered on goals and hearing them discuss what they needed to do to achieve them were mighty powerful. Mrs. Casali reminded them that when they talk about their goals there is a 50% chance they will realize them. The percentage goes up to 75% when they post them and make them public. Of course, the practicality comes when they formulate their action plans. A bonus is that we, as educators and family members, can serve as their cheerleaders by giving them guidance and support! "Yes, it takes a village!"

When I asked Mrs. Casali about the leadership skills embedded in the course, she was quick to list eight that her students practice- courage, honor, respect, responsibility, communication, confidence, perseverance, and innovation. You need to go no further than the school store (an ongoing leadership class initiative) to see them in action!

Make no mistake, Mrs. Casali's classroom atmosphere is overflowing with motivation and positivity! I was especially struck by one of the signs in her classroom that reads, "Success is not overnight. It's when every day you get a little better than the day before. It all adds up!" How true!

While the class is only for the lucky middle schoolers, maybe we could convince Mrs. Casali to offer one for adults! I guarantee we would all benefit! I will be the first to sign up!